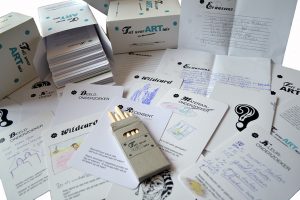 Tell your ARTtale is a game which can be played within several museums and art institutions for visual arts. It can be used for art history classes  or during a formal or informal visit to the museum or art institution. The game has been developed during my Master graduation research project of Education in Arts and has also been part of this research project at the University of Arts in Utrecht. In this research I tried to find out how game elements can provide a solution to facilitate the involvement and engagement in looking at art with museum visitors, and how to increase participation in museum education. This way of learning and educational design is also called ludo-didactics.
This form of didactics, makes use of design principles and methods that are also used in game development.
You can enter any museum or exhibitionspace for visual arts regardless of what is shown in the exhibition. The game takes about 90 minutes. Taking more time is always better, but less time is not recommended unless played with a small group.
The game aims at a glance: – make sure you see everything in the exhibition;
– collecting as many concepts and data as possible of works of art; – show your drawing skills to score bonus points; – process all data from artwork in a story; – use as much imagination as possible to make an original story; – work together to make the best presentation possible.
The learning goals in the game: – learning how you can look at visual arts; – getting acquainted with each other and art; – working together; – describing what you see; – giving meaning to art itself; – let stand of viewed art; – making stories.
Check out the facebookpage Or download the research (Dutch)